Many distributions in practice are built in "layers", by transforming and combining other distributions. The result is a tailored distribution that does not follow a basic parametric form such as "Normal" or "Exponential". The motivation behind the name of distplyr is that distributions are built by manipulation, akin to the package dplyr.
Basic Usage
There are many parametric families of distributions at your disposal. Here is a Uniform distribution:
Empirical distributions are accomodated, too.
Manipulate distributions. Here's an example of a mixture distribution of two Normals: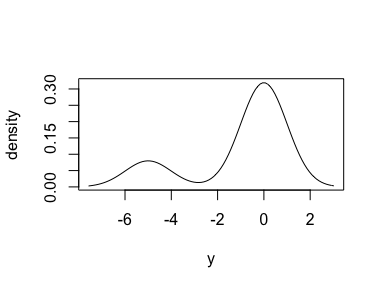 Generate a sample from a distribution.
Calculate properties of a distribution.
Evaluate distributional representations:
Installation
distplyr is not on CRAN yet, so the best way to install it is:
distplyr in Context
distplyr is not a modelling package, meaning it won't optimize a distribution's fit to data.
The distributions3 package is a similar package in that it bundles parametric distributions together using S3 objects, but is less flexible.
The distr package allows you to make distributions including empirical ones, and transform them, using S4 classes. distplyr aims to provide a simpler interface using S3 objects.
---
Please note that the 'distplyr' project is released with a Contributor Code of Conduct. By contributing to this project, you agree to abide by its terms.